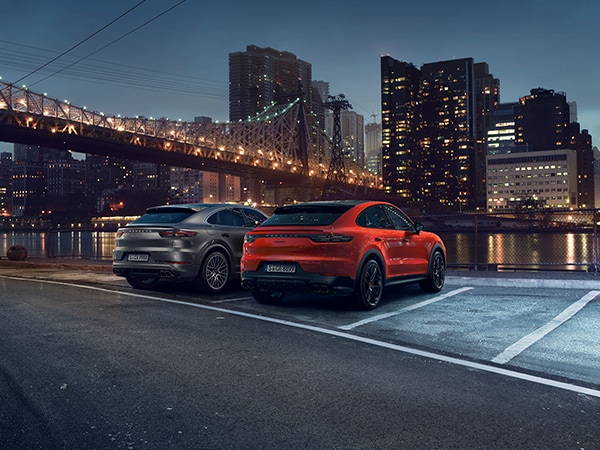 Just as you might expect, the Porsche Cayenne Coupe is the fastback version of the Cayenne SUV, and it is just as invigorating as you would expect! This exciting addition to the Porsche line is sophisticated and stylish and seamlessly mixes the features of a sports car with the attributes of an SUV, making this car perfect for someone who wants the power and play of a sports car with the function of an SUV.
The Power and Performance of Porsche
The Porsche Cayenne Coupe comes in a range of powertrains to ensure the driving experience drivers crave. The conventional model includes a 340-hp turbocharged V-6, a 434-hp twin-turbo V-6, and a twin-turbo V-8 that makes 453 hp on the GTS model and 541 on the Turbo model. The Porsche Cayenne Coupe also is offered an E-hybrid option. Drivers who have had the luck to get behind the wheel describe the handling as composed, precise and agile and appreciate the car's athletic nature.
Interior Features of the Cayenne Coupe
The Porsche Cayenne Coupe comfortably seats four passengers with the option to add an extra seat in the back. Leather upholstered seats include 14 or 18-way power-adjustable front seats that are comfortable and supportive. In the Cayenne Coupe, there is even enough space for rear seats to recline and slide.
Features driver love include:
Dual-zone automatic climate control.

Front and rear parking sensors.

A rearview camera.

Rain-sensing windshield wipers.
Fun options include a panoramic sunroof, proximity keyless entry, quad-zone automatic climate control.
Technology That Won't Disappoint
Drivers will immediately notice the 12.3-inch infotainment touchscreen and touch-sensitive climate control system. An onboard Wi-Fi climate control system is standard, including Apple CarPlay, Android Auto, and built-in navigation. The coupe comes standard with a 10-speaker stereo but can be replaced by a 14-speaker Bose system or 21-speaker Burmester 3D high-End System with beautiful, galvanized metal speaker grilles.
Schedule A Test Drive at Porsche Fresno
The only true way to know if the Porsche Cayenne Coupe is for you is to come into our showroom and speak with someone on our sales team. Everyone's lifestyle and needs demand a different make or model Porsche. The Cayenne Coupe offers a driving experience that is worth exploring! A good conversation and a test drive will show which car is best for you. Stop by our showroom, located at 7121 N. Palm Ave., Fresno, CA or call 877-711-3931 today to schedule a test drive.