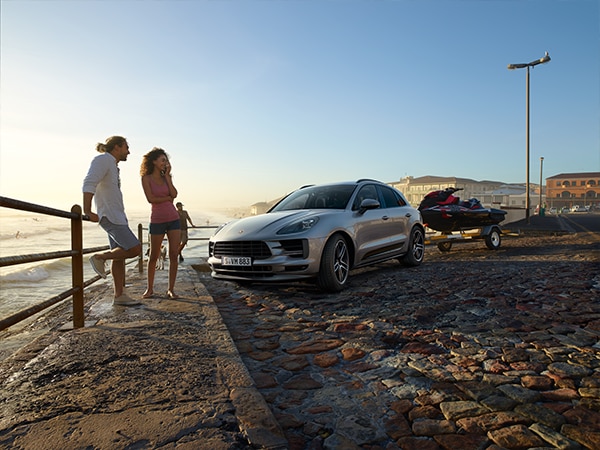 When you get behind the wheel of a Porsche, you are ready for an unmatchable driving experience. The 2021 Porsche Macan has a powerful engine, a comfortable cabin, and is unlike any other vehicle on the road. This impressive vehicle is everything you didn't realize you were missing. Learn why you should get behind the wheel of a Porsche Macan.

Engine, Transmission, and Performance
The Macan can be best defined by an athletic car. Powered by a V-6, you can expect exceptionally fast acceleration, even on base models, that will leave your adrenaline pumping. With an updated 348-hp twin-turbo V-6, the Macan S will bring you from zero to 60 in a mere 4.7 seconds. Realistically, that is a lot of speed for an SUV, however that is also the power and speed that makes driving a Porsche worthwhile.
Outside of the speed, the Macan has a smooth ride on the road across most driving environments. Handling is tight and controlled, even on twisty mountain roads. Drivers love the accuracy of the Macan.
Interior Comfort and Connectivity
The Porsche Macan offers the luxury touches Porsche drivers expect. Space in the back seat is minimal, but power-adjustable seats in the front provide a comfortable driving experience for all. The cargo bay offers enough storage for most drivers, and the additional space of folded-down backseats means you have cargo for more oversized items.
The Macan's infotainment system has an abundance of high-tech features. Expect wireless device charging, USB ports, and 12-volt outlets. A standard mobile Wi-Fi package is available with Apple CarPlay standard across the board. Unfortunately, Android Auto is not yet available.
Safety and Warranty Features
You can have peace of mind behind the wheel of a Porsche Macan. Key safety features include standard lane-departure warning, available automated emergency braking, and available adaptive cruise control.
The Porsche warranty offers four years, or 50,00-0 miles, a powertrain warranty covering four years or 50,000 miles, and complimentary maintenance for one year of 10,000 miles. This lets you know that even in the slight chance there is a problem, Porsche will have a solution for you.
Schedule A Test Drive
There is no better time than now to get behind the wheel of a Porsche Macan. The team at Porsche Fresno is here, seven days a week, to help you find the perfect Porsche for you. Please stop by our showroom, located at 7121 N. Palm Ave in Fresno, CA, or give us a call to schedule your appointment at 877-711-3931 today.