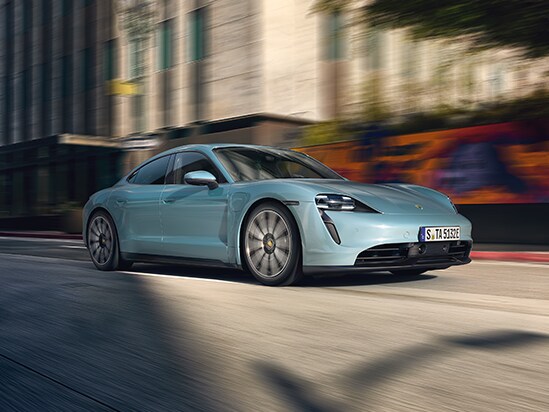 Most drivers associate the Porsche brand with power, fantastic design, and exceptional performance. The Porsche Taycan offers everything a Porsche driver dreams of, with the advantage of being an energy-efficient electric vehicle. Learn why you should get behind the wheel of a Porsche Taycan to appreciate the energy of Porsche while respecting the environment you love to explore. Learn more about this powerhouse vehicle that thrives off renewable energy.
Range, Charging, and Performance
The Porsche Taycan is powered by a 240-kW battery and 321 hp, with the option to power up to a 282 kW Performance Battery PLUS and an expected 375 hp. Max torque begins at 254 lb-ft and caps out at 263 lb-ft. The driving range for the Porsche Taycan has an estimated battery performance of up to 200 miles or 225 miles with the Performance Battery PLUS.
The total charging time is 9.5 hours on an AC and 93 minutes on a DC charge. The best part is that even running on pure electric power, Porsche Taycan drivers can hit a top track speed of 143 mph and go from 0-60 in 5.1 seconds.
Interior, Comfort, and Cargo
The interior of the Porsche Taycan is a wonderland of technology. The design is simple yet modern and adorned with rich-looking materials with various color schemes to choose from. Luxury items drivers can choose from include four-zone climate control, massaging front seats, a heated steering wheel, and heated rear seats. The Taycan comes with standard 2+2 seating with the option to add a third seat in the back. There is not an incredible amount of cargo space – however, drivers found it is more than enough for daily use.
Technology and Safety Features in the Porsche Taycan
Technology is the name-of-the-game in the Porsche Taycan. The cockpit starts with a 16.8-inch gauge display screen with two centrally located touchscreens that control the infotainment system. The touchscreens enable passengers to toggle between the navigation system, battery status, Apple CarPlay, and Android Auto and manage to open and close the trunk. There is even a touchscreen in the backseat to manger rear HVAC and seat heating!
When it comes to safety, the Porsche Taycan is equipped with standard driver-assistance technology that includes forward-collision warning and automated emergency braking, lane-departure warning, and lane-keeping assist.
Key features also include available blind-spot monitoring, night vision, and adaptive cruise control with stop-and-go technology.
Schedule A Time to Get Behind the Wheel
All Porsche drivers have in common is the simple fact that there is nothing comparable to the Porsche driving experience. The luxury, control, and performance wrapped into an environmentally friendly Porsche Taycan are everything drivers want. To learn more about the Porsche Taycan and give it a test driver, visit our showroom, located at 7121 N. Palm Ave, in Fresno, CA, daily. Schedule your appointment online or call us at 877-711-3931 daily.