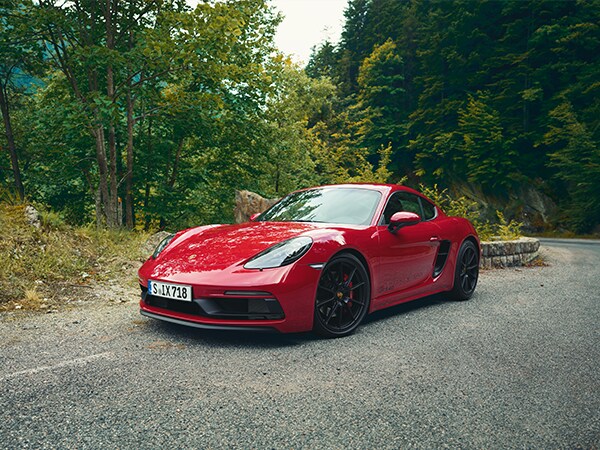 The Porsche 718 Cayman, since its inception, has been celebrated as one of Porsche's most complete cars. The 911 has the fame, but the Cayman offers the same speed and poise with an extra layer of mid-engine power. So what can drivers expect in the newest model? Look for improvements across the board. Read more about the Porsche 718 Cayman.
Race-Ready Performance
The Porsche 718 Cayman is engineered with the customary Porsche horizontally opposed arrangement with standard power stemming from a 2.0 L turbocharged boxer 4-cylinder producing a robust and balanced 300 HP. The 718 Cayman S offers a 2.5L turbocharged 4-cylinder that kicks 350 HP for drivers who desire more. Finally, Porsche drivers looking for the ultimate driving experience, the Porsche 718 Cayman GTS 4.0 and Cayman GT4 are powered by a 4.0 liter aspirated six-cylinder boxer engine that produces 394 414 HP, respectively.
Drivers can choose from a six-speed manual or a 7-speed PDK dual-clutch automatic for precise and rapid gear changes.
Innovative Technology Designed For The Driver
The interior of the cockpit has only the driver in mind. The layout of the dashboard offers an ascending center console with three round instruments in the gauge cluster that includes a center tachometer. The Porsche Communication Management system acts as the centralized command station for your Porsche Cayman. Connectivity features include Apple CarPlay, Google Earth Navigation, real-time traffic info, and access to your phone's apps to stay in touch with people you need. Drivers can also choose from Bose Surround Sound and Burmester high-End Surround Sound systems, while Porsche Car Connect will help you retrieve critical vehicle data using your smartphone.
Cargo Space and Interior Experience
Porsche does not overlook the details of a luxury driving experience in the Porsche 718 Cayman. The Cayman offers an incredible amount of cargo space for a sports car, offering conventional cargo areas beneath the rear hatch as well as in the front trunk. The Cayman's cabin is handsome and stylish, with many upgraded materials showcasing the high-end experience Porsche driver's desire. The seats are roomy and supportive, all culminating in an impeccable driving experience.
Schedule A Test Drive Today
All drivers know the only way to experience Porsche truly is from behind the wheel. At Porsche Fresno, we have an exciting variety of Porsche makes and models for you to test drive. Please schedule your appointment to learn more about the Porsche 718 Cayman today by visiting us at 7121 N. Palm Ave in Fresno, CA; call our sales team at 877-711-3931 or schedule your appointment online. Open 7-days a week; we are excited to introduce you to the Porsche community.