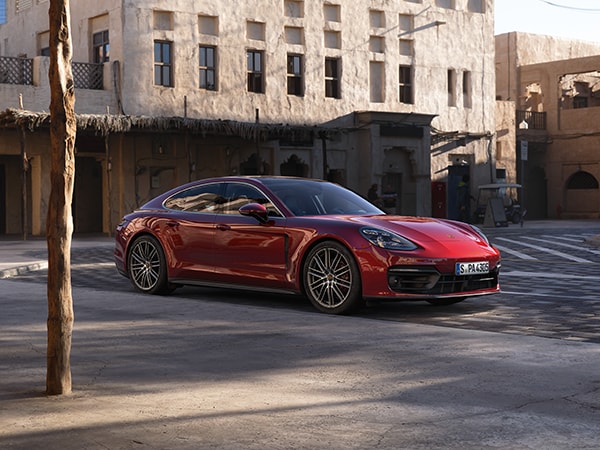 Porsche is undeniably a leader in power, speed, and luxury. The Porsche Panamera offers all of these in-demand characteristics packed into a sensational four-door luxury sedan. For Porsche drivers who need a sedan for family or business, the Panamera will exceed your expectations. Learn more about the power, performance, and luxury of the Panamera.
The Power of Porsche Packaged as A Sedan
Drivers know when you drive a Porsche, power and performance are at the forefront. Every Porsche Panamera comes with a boosted engine, which feeds into the pep and high speed. The base model rear-wheel drive features a 325-hp turbocharged 2.6-liter V-6. The 4S model offers a 440-hp twin-turbo 2.9-liter V-6. The GTS will give you an incredible 473-hp twin-turbocharged 4.0-liter V-8. A plug-in Porsche Panamera gives you a 455-hp powertrain in the 4 E-Hybrid and 552-hp in the 4S E-Hybrid.
Driver Performance Behind the Wheel of a Porsche Panamera
The Panamera is a family-sized sedan, but it still embraces the road like a classic Porsche sports car. The Panamera hugs curves on city streets and mountain passes and invites drivers to steer and enjoy the ride accurately. Upgrades to the 2021 model improve the ride quality and sharpen handling - in high traffic areas or on the wide-open road. With the engine's power and swift engineering, this 4-door sports car handles like a dream.
Expect the Luxury of Porsche in the Panamera
The new Porsche Panamera has created a driver-focused cabin that feels exactly like a luxury car should feel. The standard features include a 7-speed PDK automatic transmission, a 12.3-inch touchscreen center display with touch-sensitive controls and a heads-up display. You will also get Smartphone Integration with Bluetooth and Apple CarPlay, standard 8-way electrically adjustable seats with driver memory, lane-keeping assist, and a leather-wrapped multifunction sport steering wheel with shift paddles.
Upgrades are anything and everything you could imagine. From massaging seats and ventilated seats to soft-closing sports and a power-operated sunshade and leather-covered climate control vents, Porsche has already imagined anything you could envision in the car. You can trust your experience behind the wheel of the Porsche Panamera is nothing below exceptional.
Schedule a Visit to Porsche Fresno
To experience the luxury of the Porsche Panamera, schedule a visit to Porsche Fresno. Our sales team can answer any questions you have and ensure you get behind the wheel of the Porsche Panamera. Our showroom, located at N. Palm Ave., in Fresno, CA, is open seven days a week. You can also schedule your appointment online or by calling 877-711-3931.