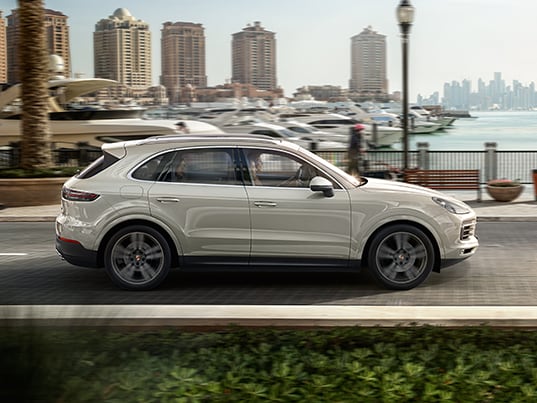 Many Porsche enthusiasts will argue that Porsche 911, known as the Carrera, brought Porsche to fame. But, today, Porsche drivers want more than just a sports car to celebrate engineering, community, and speed. They crave a vehicle that boasts these same highlights with the added benefit of space family's desire. Learn why you should get behind the wheel of a Porsche Cayenne today.
The Luxury Design of the Cayenne
The interior of a Porsche Cayenne is dripping in luxury features. Comfort dominates the experience, with soft-stitched leather coverings on the dash, center console, door panels, and seats. Heated front bucket seats offer warmth and support for the driver and front-seat passengers. Space in both the front and rear seating is comfortable and spacious - even with three adults riding in the back.
Exterior design elements make the Porsche Cayenne distinctly on brand. You will find emphasized front wings on the front, a long, sloping front with Porsche's characteristic three-piece air intakes, and a powerfully styled front apron. A reimagined rear with a striking light strip that extends over the entire back of the vehicle is both eye-catching and on-brand.
The Power and Performance of a Porsche Cayenne
As expected, the Porsche Cayenne showcases the power and performance of Porsche that attracts Porsche drivers. The all-new Porsche Cayenne offers three engine choices, all of which answer Porsche drivers' expectations of fun and power behind the wheel. The Cayenne comes standard with a 3.0 -liter turbocharged V6 engine that produces 335 HP and 332 pound-feet of torque. The Porsche Cayenne Turbo bumps up to a 4.0-liter twin-turbocharged engine that makes 541 HP and 568 pound-feet of torque. These powerful engines ensure, regardless of which engine choice - you are guaranteed the power and acceleration that makes driving a Porsche a thrilling driving experience.
Alluring Car Technology
Drivers can expect their new Porsche Cayenne to be packed with alluring car technology. The new Cayenne is said to be a technological powerhouse! One exciting feature is an LTE-compatible SIM card that comes standard on the Porsche Cayenne so you can be online constantly. Porsche also offers a seven-gigabyte data pack that helps when using onboard WIFI hot sports or streaming services such as Amazon music. The consistent internet connection provides improved navigation information, including real-time traffic updates and navigation recommendations. Owners can stream Amazon Music to the Porsche Communication Management System and sync their Nest smart home device to the vehicle. For tech lovers, this car offers more than any other crossover on the market.
Test Drive A Porsche Cayenne
With the exciting technology, comfort, luxury, and power of the Porsche Cayenne schedule a time to get behind the wheel and experience Porsche. Our showroom is open seven days a week, where you will always be welcomed in by a knowledgeable Porsche professional who can answer your questions and match you with the Porsche of your dreams. Our Finance team is also available to ensure your purchase meets your financial car-buying goals. Visit our showroom located at 7121 N. Palm Ave in Fresno, CA. You can also call our Sales Team at 877-711-3931 to schedule a test drive.